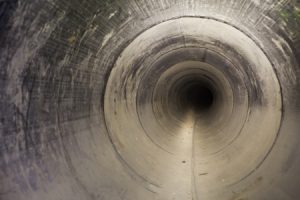 A year and a half after Hurricane Harvey made landfall in Texas, Harris County officials continue to explore new ways to protect Houston and the surrounding communities from future catastrophic weather events. In February, for example, the Harris County Flood Control District was awarded a $320,000 federal grant to assess the feasibility of an ambitious plan that would involve digging deep underground tunnels to carry stormwater from upstream bayous to the Houston Ship Channel.
This study, which is expected to take about four months, will evaluate whether or not stormwater tunnels could serve as a viable addition to the area's long-term flood control strategy.
"The study is basically to look at our ground conditions, including our groundwater table, and compare that to existing technology in the tunnel industry to see if there's a match," said Russ Pope, executive director of the flood control district in a recent interview. "If that's true, then we can start looking at costs, routes and opportunities we can potentially pursue."
Although Austin, Dallas and San Antonio have all successfully implemented stormwater tunnels into their own flood-control infrastructure, the unique soil conditions and topography of Houston could make it more difficult for engineers to design an effective tunnel system in our area. Preliminary plans involve digging 20-foot-wide tunnels 150 feet deep that would use gravity to move stormwater as far as 30 miles to the ship channel.
Despite the anticipated challenges that are associated with building stormwater tunnels underneath Houston, flood control district officials argue that tunneling could actually be less expensive and more environmentally friendly than widening bayous and channeling existing waterways with concrete. For now, however, we'll just have to wait and see what the results of the feasibility study reveal.