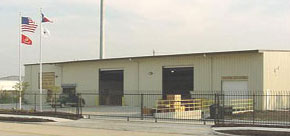 Texas Contractors Equipment, Inc. is located at 9303 Ponderosa Lane in Southwest Houston, Texas occupying a 12,500 square foot office / warehouse and serves construction and mining companies in the southeast Texas region.
Lowell H. Heinz founded the company in July of 1974 and started by representing one manufacturer and utilizing a back bedroom in his home as the office. After the business graduated through several rental buildings during its first quarter century years, the company built its new office/warehouse and opened it for business on October 15, 2001. After the passing of Lowell Heinz the company has been restructured to be run on a daily basis by Danny Heinz (President/CEO), Julie Waggoner (VP/CFO), Tim Heinz (VP/COO), and Dub Flint – Outside Salesman

Texas Contractors Equipment Inc. represents many different manufacturers and stocks many different ground engaging tools/attachments in its inventory. The construction and mining industries are always on the lookout for new and innovative ways to improve efficiency in the workforce. With improved ground engaging tools/attachments available to companies around southeast Texas, the infrastructure will grow and develop more efficiently and of higher quality.
The company's motto for its customers is: "The Problem Solvers".