As the population growth increases all over the state of Texas, roadwork construction is starting to take over. It can be a good and bad thing for people in Texas. On one hand, you have the growth of population and an economy, but on the other hand, you have the rise of congestion on highways and roads due to traffic. Texas construction crews are working tirelessly to improve the highways and roads in North Texas.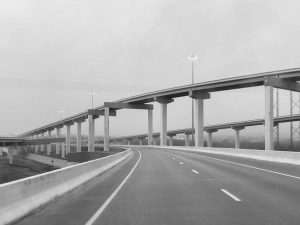 North Texas Roads
In North Texas, the population is growing rapidly by the day. The North Texas Tollway Authority is undertaking the Sam Rayburn Tollway Fourth Lane Project.
What does this entail?
A new ramp will be replacing the existing eastbound Parkwood Boulevard and Preston Road exit ramps and separating exiting and incoming traffic merging onto the Sam Rayburn Tollway from the Dallas North Tollway. The project is divided into two sections being built at the same time. Construction company crews have to deal with traffic at a high rate of speed while working. Speeding up the process of getting the project done is a must.
For travelers, they will have to deal with lane and ramp closures and detours while the project is going on. This pushes the crews to efficiently get the roadwork done, so that it doesn't last too long for travelers. Many growing and upcoming cities deal with these problems, and North Texas is working hard to make sure they can minimize the time of construction.
What Does this Mean for Construction Companies?
The influx of people is good for the construction industry because it's providing more work and growth to the industry, while improving the economy of North Texas. As the population growth continues, construction companies will be getting more work, which means construction equipment and tools will be needed to get projects done quickly and efficiently.
Texas Contractors Equipment supplies the industry with ground engaging tools/attachments. We have an inventory of several different manufactured products for the construction industry.  Contact Texas Contractors Equipment at 713-776-1212 today to learn more about our inventory!