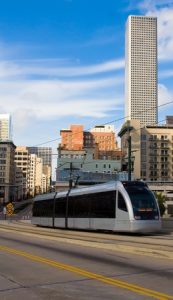 With Houston continuing the grow at an unprecedented rate, the Metropolitan Transit Authority of Harris County is preparing to undertake an ambitious 20-year plan called METRONext that could dramatically improve our area's public transportation infrastructure. Proposed improvements include the addition of 20 miles of light rail service, 75 miles of bus rapid transit and 110 miles of two-way HOV lanes on local freeways.
Last year, METRONext officials surveyed Harris County residents to find out what transit improvements they'd most like to see included in the 20-year plan.
Based on the feedback they received, they identified five key needs that the plan should address: "Increased connectivity within the system, quicker travel times, reliable and safe rides, enhanced customer service and advanced technologies."
Now, after tailoring their plan to suit the most immediate needs of Houston-area residents, METRONext is preparing to ask voters for more than $3 billion in borrowing authority to kick start the first phase of transit improvements. The project is expected to cost a total of $7.5 billion, most of which will be provided by state and federal transportation funding.
Although $3 billion might seem like a steep price tag, Metro board officials have been quick to point out that this money won't be borrowed all at once. Rather, it will be borrowed in increments based on the timelines of individual projects.
"This plan will change. There is no doubt about that," said Metro board chairwoman Carrin Patman in an interview with the Houston Chronicle. "What we get back from the community governs how much we ask for."
Voters will find this bond issue on the November 2019 ballot during the Houston Mayoral race. Until then, it will be up to METRONext to convince Harris County residents that their plan is a worthwhile investment.