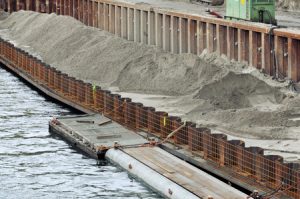 Construction crews in Texas are still working hard to help the state recover from the damage left by Hurricane Harvey in August of last year, but they'll soon have help from a federal disaster relief package that provides more than $5 billion for repairs, flood control projects and studies.
Close to $4 billion of that funding has been allotted toward an ambitious project to build a coastal protection system that could protect the state from deadly storm surges during future hurricanes. This project will involve building close to 27 miles of coastal levees in Orange County and reinforcing another 30 miles of existing levees in Port Arthur and Freeport.
Much of the remaining funding will be devoted to flood control projects and repairs in the Houston area, some of which are already underway. These include three major bayou-widening projects, a dredging operation in the Houston Ship Channel and a revised flood control project on Clear Creek in southeast Harris County. The U.S. Army Corps of Engineers will also receive $3 million to conduct an extensive study of the Houston area's watersheds.
"The billions allocated to Texas today is welcome news as we continue to rebuild in the aftermath of Hurricane Harvey," said Governor Greg Abbott in a statement. "This funding will go a long way toward future-proofing Texas against another hurricane and strengthening our infrastructure to withstand dangerous flooding."
Thanks to the efforts of our state's construction workers and the funding from this relief package, Texas will soon have the modern infrastructure it needs to resist flooding from major weather events in the future.