There are plenty of benefits when it comes to rubber Trojan Tracks. Compared to steel tracks, rubber tracks work well on grass and dirt, but when the weather conditions are wet and muddy, steel tracks work better because they offer more traction.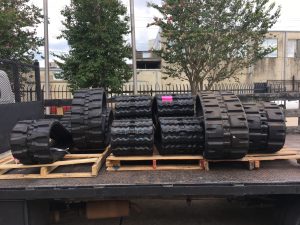 Let's compare the two:
What's the more affordable track?
Up front, rubber tracks cost much less, but in the long run, they have to be replaced more often if you're using them quite a bit. Steel tracks are more durable, which means they last longer, but the cost up front is greater.
More Efficient?
For more efficient work, rubber tracks reduce vibration, which means they drive much faster than steel tracks. Also, when there is lower vibration, it leads to longer life. Less maintenance for your tracks will cut costs in the future.
Noise?
Rubber tracks are the winner in this one. Steel tracks create a loud clattering when they're driven, but rubber tracks are quiet.
Trojan Tracks
Trojan Tracks is a leading supplier of rubber tracks, solid skid steer tires, and undercarriage parts for compact track loaders, mini-excavators, directional drills, and crawler dumpers.
Texas Contractors Equipment Inc. is a family owned business that offers Trojan Tracks. If you're in need of parts and tracks from this manufacturer, we can get these to you as soon as possible, so that you can start working on your project immediately.
Texas Contractors Equipment Inc.
Here at Texas Contractors Equipment Inc., we have been supplying manufactured parts and top-notch ground engaging tools and product support to the construction industry. We help companies get what they need in an efficient and immediate way. For more than 47 years of family owned and operated experience, we can get the job done for you. Contact Texas Contractors Equipment Inc. at 713-776-1212 or 800-483-9266 today!