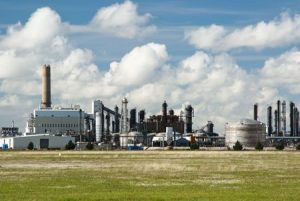 In the wake of Hurricane Harvey, Texans have spent the last year adopting innovative new strategies to protect the state from future storm damage. The latest of these proposed strategies involves building a 60-mile "spine" of steel levees, concrete seawalls and earthen barriers that will stretch from the Louisiana border to an area south of Houston.
In addition to protecting homes and ecosystems from potential storm surges, this network of seawalls will also serve as the first line of defense for the region's petrochemical infrastructure. This area of the Gulf Coast is home to roughly one third of the nation's total refining capacity. Plans for the coastal spine are still being finalized, but Texas will seek at least $12 billion in federal funding to help finance its construction.
"Our overall economy, not only in Texas but in the entire country, is so much at risk from a high storm surge," said Brazoria County judge Matt Sebesta in a recent interview.
After Hurricane Harvey disrupted about a quarter of the region's refining capacity in 2017, the nation's average gasoline prices rose 28 cents per gallon. With this in mind, the U.S. Army Corps of Engineers is eager to implement new defensive measures to protect these refineries from similar disruptions in the future. Meanwhile, a similar barrier project is expected to build about 25 miles of new seawalls and levees in nearby Orange County as well.
Thanks to the efforts of our state's construction crews, the citizens of Texas will be in a much better position when the next Hurricane comes knocking at the door of the Gulf Coast.