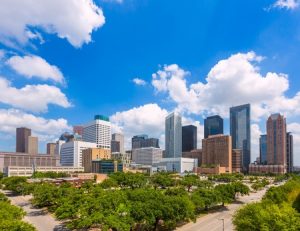 Cleanup and construction crews may still be working hard to repair the damage done by Hurricane Harvey, but that isn't stopping Houston's residents from looking toward the future. This month, two local nonprofit groups revealed a "master plan" that could make sweeping design changes to Downtown Houston over the next 20 years.
Officially known as Plan Downtown: Converging Culture Lifestyle & Commerce, this blueprint for the future of Downtown Houston was developed over 18 months with input from hundreds of local stakeholders, designers and residents. The plan includes a diverse array of proposed features, all of which are designed making the city more sustainable, resilient and accessible.
Perhaps the most notable component of the plan is the Green Loop, a five-mile ring of parks and bike paths that will encircle the downtown area and connect it to nearby neighborhoods such as Midtown and Freedman's Town. Other proposed improvements include new storm water detention areas, 12,000 residential units and an Innovation Center for entrepreneurship.
"This 20-year vision plan outlines recommendations for both short-term and long-term planning, development and design that will improve the visitor appeal, business climate, livability and connectivity within and around Downtown Houston leading up to the city's bicentennial in 2036," says the project's description.
Here at Texas Contractor's Equipment, we're proud to be a part of a community that is constantly striving to grow and improve itself, even in the face of hardship. Houston is already a great place to live, and we can't wait to see what the next 20 years has in store for us.