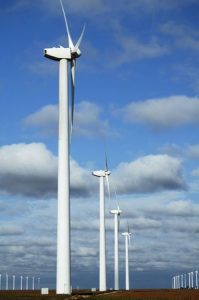 Did you know that Texas produces more wind power than any other state in the nation? The Lone Star State might be known for its rich oil reserves, but in recent years Texas has experienced enormous growth in the wind energy sector as well. In fact, Texas generates roughly three times more wind energy than the second-leading state for wind energy production, Iowa.
Texas is an ideal place for wind power generation due to its vast plains and expansive shorelines. Currently, there are more than 10,000 wind turbines operating throughout the state. This modern, efficient wind power infrastructure has allowed Texas to establish itself as a leader in energy independence.
Soon, Texas will have another 201 Megawatts of wind energy capacity thanks to a project under construction on the Gulf Coast in Kenedy County. Once it's complete, the Stella Windfarm will generate enough electricity to power more than 60,000 homes. This windfarm will be owned and operated by E.On, an energy holding company that has been responsible for several other wind power projects in the region as well.
"Stella is our 23rd wind project in North America and represents a significant investment and growth milestone for the business that is now over 3,600 MW" said Silvia Ortin, E.On's chief operating officer for North America in a press release. "When completed, Stella will add to our coastal wind portfolio with now more than 1 gigawatt in operation."
Construction has only just begun, but the Stella Windfarm is expected to be operational by the end of 2018.