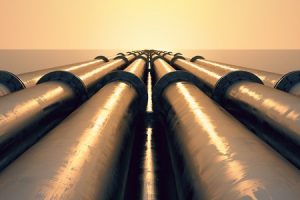 Thanks to recent advancements in horizontal drilling and multistage fracking techniques, oil and natural gas production has steadily increased to unprecedented levels in the 90,000-square-mile Permian Basin of West Texas. Job seekers have are currently flocking to the region from all over the country, and the oil boom shows no signs of slowing down anytime soon. In January 2018, crude oil production in the Permian Basin hit a record 2.8 million barrels per day, making it the second-most productive oil field in the world. More recent estimates from the Energy Information Administration place Permian Basin oil production at close to 3.5 million barrels per day.
In fact, oil production in the Permian Basin has become so prolific that the region's pipeline infrastructure is having trouble keeping up.
"It's been really a Renaissance for us, and as a result of that, we're constrained by our oil and gas lines going to market—those lines are full now," said Tommy Taylor, director of oil and gas development for Fasken Oil and Ranch in a recent interview.
Recently, this transportation bottleneck has begun driving oil prices down in the Permian Basin, causing concern and frustration among some oil company executives. The good news, however, is that several new pipelines are already under construction in the region. Earlier this month, for example, ONEOK of Tulsa, Oklahoma announced that it will invest close to $300 million to expand its West Texas LPG Limited Partnership pipeline system. Meanwhile, several other new pipelines are expected to become operational within the next two years as well.
In the long run, this pipeline shortage will likely to prove to be nothing more than a temporary roadblock in the ongoing growth of the Permian Basin oil field.