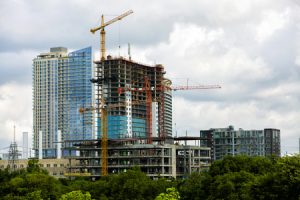 A persistent labor shortage has made it hard for many construction companies to keep their projects on schedule in recent years, but new data suggests that things are looking up for the construction industry in Texas.
According to the most recent report from the Bureau of Labor Statistics, Texas added 56,100 construction jobs in 2017—the most of any state in the nation.
These new jobs amount to a 7.9 percent year-over-year increase since 2016. With cities in Texas continuing to grow at an unprecedented rate and hurricane recovery efforts still underway, the Lone Star State can use all the help it can get to keep up with the demand for new construction. In addition to adding thousands of construction jobs last year, these positions are becoming more lucrative for workers.
In September, the Labor Department announced that average hourly earnings in the construction industry have passed $30 an hour for the first time.
This wage increase is due in large part to the rising demand for qualified construction workers across the state. The tight labor market may be putting employers in a pinch, but it has also had some residual benefits for workers. This unique confluence of economic conditions could offer new incentives for more young people to join the construction labor force as well.
At Texas Contractor's Equipment Inc., we're proud to support the construction companies in our area by providing them with custom ground engaging tools, attachments and ongoing product support. To learn more, feel free to give us a call or contact us online today!