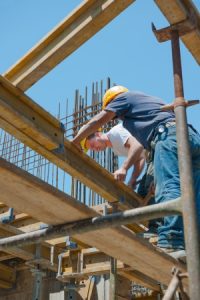 Construction companies in Texas have plenty of work to do, but in recent years many of them have struggled to recruit the talent they need to get the job done. This labor shortage is stretching companies thin in many places, and that's why a number of different industry groups have launched campaigns to educate people about the value of construction careers and encourage them to apply for construction jobs in Texas.
In February, the Associated General Contractors (AGC) of Texas unveiled their Texas Builds campaign, which highlights the success stories of people at all levels of the Lone Star state's construction industry. The program describes the Texas construction industry as "a place of good pay and great opportunities staffed by tens of thousands of hard working craftspeople who take great pride in what they build and who look out for the safety of their coworkers."
In fact, construction workers can expect to earn 10 percent more than the average worker in Texas, with an average salary of over $60,000 a year. People who aren't familiar with the industry might think of these as low paying jobs, but that couldn't be further from the truth. Entry-level jobs can also lead to even more lucrative management positions. One man interviewed in the Texas Builds intro video describes how a career in construction allowed him to work his way up from a laborer all the way to becoming the president of a company.
Meanwhile, the Associated Builders and Contractors of Greater Houston (ABC) have begun meeting to tackle labor shortages on a local scale. This group is starting an outreach program that works with schools and colleges to educate young people about the opportunities in the industrial sector. They're particularly interested in attracting students to skilled labor positions such as pipefitters, electricians and welders.
"We've been working diligently at the younger levels to first of all change the perception of the industry, and then make it an easy entry point to join the construction industry and make it a career," said ABC President Russel Hamley in an interview.
Thanks to the recent labor shortage, there's never been a better time to join the ranks of the hard-working construction workers who have made Texas the great state it is today.