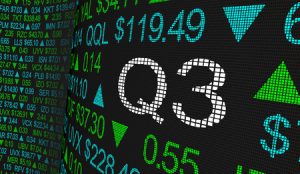 Houston's vacancy rate in the office market didn't change much between the second and third quarters in 2019. It ticked up just 10 basis points between Q2 and Q3. That might lead you to believe that there isn't any cause for celebration for those in the Houston market right now. However, there were a lot of other positive things that happened during Q3 to make it a strong quarter. Check out some of the aspects that you should be most excited about if you're operating within the Houston office market space.
Positive net absorption
Net absorption is something that those who are interested in an office market always keep an eye on, and during Q3, the Houston office market experienced positive net absorption. While net absorption was in negative territory during Q2 to the tune of negative 700,000 square feet, it moved into positive territory during Q3 at 58,000 square feet. That wasn't enough to move the overall vacancy rate too much, but it does represent a step in the right direction for the Houston office market.
Increased development and redevelopment
If you spend an hour or two driving around the Houston area, you'll see plenty of development and redevelopment taking place. There are almost 2.5 million square feet of new office space under construction at the moment with a lot of it located in the Central Business District and Midtown. There are also redevelopment projects involving the Houston Center, the Allen Center, and the Total Plaza underway.
Improved job growth
The job growth rate in Houston continues to trend in the right direction. In the 12 months preceding August 2019, almost 82,000 jobs were added in the city. This represented a 2.7 percent jump in the total number of jobs. The unemployment rate in Houston also took a nosedive during the same time period, falling from 4.4 percent in August 2018 to 3.9 percent in August 2019. It suggests that the Houston office market should remain strong moving forward.
Is your company looking to get in on all the growth that's happening in Houston? Texas Contractor Equipment can supply you with many of the products you'll need to tackle new construction jobs in the city. Call us at 713-776-1212 to get your hands on the products that we have to offer.