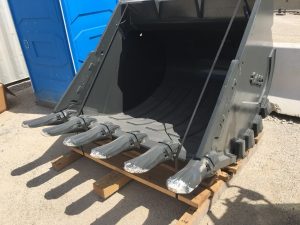 If you've been following our blog, you may remember that earlier this year we worked with ESCO to design and build a custom excavator bucket for a Houston-based company called Southern Crushed Concrete, Inc. This unique bucket was made with one purpose in mind: breaking up paved concrete so it can be hauled to a local recycling plant.
Southern Crushed Concrete had been using a standard ESCO XDP bucket on a 30 ton class excavator to get the job done, but the constant abuse associated with breaking up concrete was causing the lifting eye on the back of the bucket to wear out. After the company's equipment manager approached us for a solution, we teamed up with the engineers at ESCO to develop a reinforced bucket with a heavy-duty spike ripper attached to the back that could crush concrete without getting worn out.
Recently, we checked in with the team at Southern Crushed Concrete, and they couldn't be happier with the performance of their custom bucket.
"Our downtime has been significantly decreased and we are in the process of changing our fleet over to all ESCO special excavator buckets and Loadmaster lip/loader buckets," said Equipment Manager David Hooker in a statement. "Thanks to ESCO and their customer friendly attitude my problem was solved."
Southern Crushed Concrete's customized XDP bucket has been so successful that the company is preparing to outfit the rest of its vehicle fleet with more of these specialized products from ESCO. This build presented its fair share of design challenges, and we're thrilled to hear that our client is satisfied with the results.
Looking for your own specialized solution to a particularly tough job? At Texas Contractor's Equipment, we'd be happy to lend a hand. Stop in or give us a call today to get started!