You may be wondering how this title of this post will help you ?  First off these words are very common in the construction industry.  As many of you know when your asphalt roads become too rough or pot-holed you get pretty angry because it is tearing up your vehicle.  So your state, county, or city highway departments decide to have the area contractors bid on re-doing these roads.
THE BEGINNING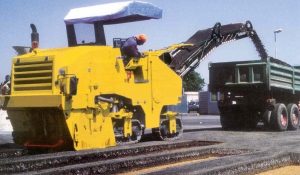 Once all the paperwork is signed and the contractors comes out with his large milling machine and starts to tear your road up.  This process is called Milling.  Under the machine is a drum which has anywhere from 100-250 milling bits. Milling bits are the wear items but also do the most important thing on the machine and that's cut, pulverize, and break up the asphalt.
KENNAMETAL
Kennametal was founded in 1938 by Philip M. McKenna in the Latrobe, Pennsylvania area and is today a global leader in the design and manufacture of engineered components, advanced materials, and cutting tools with a worldwide of over 12,000 employees. Kennametal is always looking for ways to help the milling contractors increase his wear life on his bits and help his bottom line of his profit sheet.
ROAD KING™
Kennametal's newest milling bit has customers excited over what these bits are providing them.  With its wider body diameter provides enhanced holder protection and its new tip design stays sharp longer which allows a more efficient milling operation.
There are some different applications and so Kennametal has 3 types of Road King bits available:
Road King – Mainly used for cutting asphalt, some concrete has a shank size of .765″
Stabiliser – Mainly used for cutting and stabilising the ground has a shank size of .865″
Attachment King – Mainly used for larger cutting machines and some drilling applications has a shank size of 1″
If you wish to see more of this new milling bit please visit our New Products page at https://www.texconeqp.com/new-products/