Construction workers are constantly working with heavy equipment and machinery that can be very dangerous. It's extremely important to practice safety when operating these machines. They can be very beneficial to many types of manual labor jobs including landscaping, construction, and farming.
Follow these safety practices: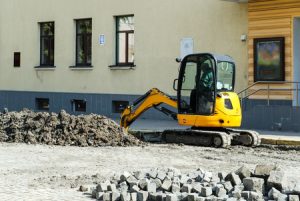 Safely Operating Equipment
As an equipment operator, it's important to be familiar with the machine you are operating. If you know the ins and outs of the machine, you'll be able to assess a problem if there is one with the machine.
Always inspect the machine before operating (brake system, headlights, taillights, brake lights, wipers, audible warning devices)
Adjust mirrors for blind spots
Know your surroundings (workers, terrain)
Turn off the engine and engage brakes after using
Always wear seatbelt
Avoid overloading the machine (know its limits)
Safely Standing by Heavy Equipment
There should always be workers practicing safety when someone is operating the heavy machinery. A spotter is recommended, so the operator knows their surroundings. A spotter should be trained in hand signals, so they can direct the operator in situations where they need it.
For workers around the operator:
Wear visible clothing the operator can see
Avoid being in blind spots or riding on the equipment
Make sure the operator knows you're in the area
Ride in approved seats only
Practicing safety around heavy machinery and operating machinery is important when working manual labor. Avoiding accidents is the most important thing in construction fields.
Is your company in need of heavy machinery parts? Texas Contractors Equipment Inc. provides different ground engaging tools/attachments for the greater southeast Texas region and other selected areas. Operating heavy machinery should be done in a safe way and making sure the right working parts of the machine are in order is crucial to the safety recipe. Contact Texas Contractors Equipment Inc. at 713-271-1902!